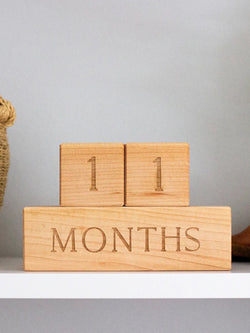 Created by Glad Folk,  a husband + wife design studio 
How many days, weeks, months, and years? Whether you're counting down or simply commemorating the passing of time, this versatile, modern blocks set is the perfect piece for all your styling & photography needs. Features timeless typography engraved onto solid maple wood.
Base block is approximately 6" long by 1.75" deep and wide, and each of the 3 numerical blocks are approximately 1.75" cubes.

With numbers engraved on all 6 sides of the 3 different blocks, countless numerical combinations are possible.

Comes packaged in a reusable muslin bag

Blocks are designed with love & made by hand in Ohio from locally sourced lumber

Sealed with food-grade mineral oil and safe for children to handle and enjoy.
Made in United States of America
***This item is not eligible for coupon discounts***
| Size | Weight | Length | Chest | Waist |
| --- | --- | --- | --- | --- |
| NB | Under 7lbs | | | |
| 0-3M | 7-12lbs | 18-23" | 16-17" | 16.5-17.5" |
| 3-6M | 12-17lbs | 23-27" | 17-18" | 17.5-18.5" |
| 6-12M | 17-22lbs | 27-29" | 18-19" | 18.5-19.25" |
| 12-18M | 22-27lbs | 29-31" | 19-20" | 19.25-20" |
| 18-24M | 27-30lbs | 31-33" | 20-20.5" | 20-20.25" |
| 2T | 30-33lbs | 33-36" | 20.5-21" | 20-20.5" |
| 3T | 33-36lbs | 36-39" | 21-22" | 20.5-21" |
| 4T | 36-40lbs | 39-42" | 22-23" | 21-21.5" |
| 5T/6 | 40-50lbs | 42-48" | 23-25" | 21.5-22.5" |