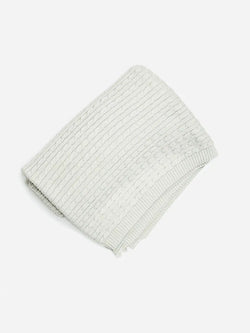 Viverano Organic Cotton Cable Knit Baby Blanket
Classic, cozy and soft baby blanket in pure organic cotton fine sweater knit.
- 100% organic cotton knitted blanket, natural, pure & luxurious.
- Babies love being wrapped in this super soft blanket.
- Classic and adorable design with meticulous detailing.
- Super Soft, lightweight, all-season, cozy and comfy.
- Eco-friendly, chemical free, non-toxic, pure, natural & organic baby clothes.
- Ethically produced in India, supporting better livelihoods for small grower farmers.
- Size: 32" x 40".
- Made in India
Viverano, an American brand, was founded in 2013 with the simple idea of producing eco-friendly, pure and organic baby clothes. Viverano baby clothing is known for its soft hand feel and high quality. Pamper your precious babies with our non-toxic, lightweight, all-season, natural baby outfits.
Experience 'Organic Comfort' by Viverano, a family-owned small business.