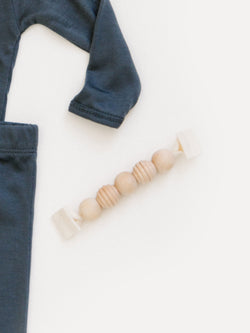 Clover and Birch Wooden Grasping Beads
Grasping beads are a simple, yet beneficial, first toy for your Montessori inspired baby. Grasping beads are traditionally introduced to baby around 3 months to encourage grasping, hand eye coordination, and transferring practice. The alternating textures of the beads create an engaging tactile experience for baby and also make for a wonderful teething toy.


Each grasping toy is beaded with natural, unfinished, and untreated wooden beads.

Each bead is strung on an organic cotton ribbon that is finished with sewn ends.  
Care instructions
hand wash with hot water and a mild soap
do not submerge
*This product is not eligible for sales and promotions*