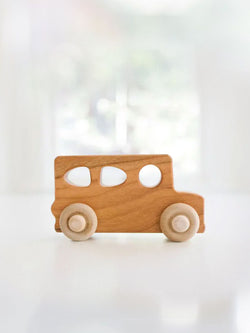 Bannor Toys Wooden Mini School Bus Toy Car
Bannor Toys has been handcrafting heirloom quality modern wood toys in the heart of Iowa since 2011.  Each toy is created with the intention of letting imagination and creativity thrive in children.
Beep Beep!! Don't miss the bus!! The Mini School Bus toy car is made from American Cherry wood with fully functional wheels. Let your children's' imaginations run wild as they drive the bus around and pick up their friends!!
Approximately 5" l x 2" w x 3" h

Made with cherry wood and finished with beeswax and flaxseed oil


Handmade in Iowa
*This product is not eligible for sales and promotions*